Summer is coming...!
In a way, it's already here! I had my last class on Friday, but I still have an assignment due on Tuesday. I probably could have had it done for the original due date of Thursday, but because the teacher is ill there was an extension. So now I have lots of time to work on it, which is good, since I can probably sit down and finish it all in one day.... aha...
But wow. Finishing first year felt like an accomplishment, and I feel like the joy doubled this time! I have no idea why, do be honest ahah! Despite all the projects and the one terrible instance of "I'm not sleeping I have to do work", I enjoyed my second year much more.
Not only were the projects more typical of what a graphic designer would be doing in the work place, but I also started talking to a handful of new people and nothing makes things more enjoyable new faces to have fun with!
And of course, we closed the semester with what's shaping up to be a tradition: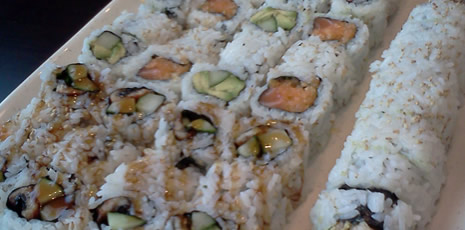 Sushi! (Try and imagine about 3 more plates like this for 7 people, plus other food)
Overall, I think I learnt a bunch more this year, and I'm really glad I've gotten the chance to attend post-secondary education. I guess I tend to overlook things, and privileges like this are definitely something I forget about ahaha... (sorry mum & dad)
I think my goal for this summer is to tighten up my portfolio and maybe do a bit of (would you call it freelance) illustration on the side. Though really, who would buy my artwork aha...!
Until next time, enjoy the rainy weather and study hard!